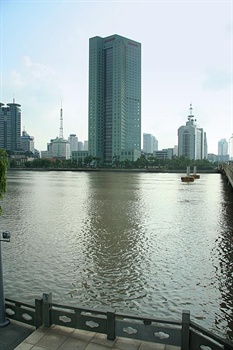 The Ningbo Marriott Hotel (Ningbo Wanhao Jiudian) is located in downtown Ningbo overlooking the Yao River. The center of international dining and nightlife in Ningbo, the Old Bund, as well as shopping hub Tianyi Square and high-end shopping center Heyi Avenue are all located a short cab ride away.
Beside the hotel, walkways and foliage line the walk along the Yao River. From up high in the guestrooms, the rivers and skyline provide excellent views. Rooms come outfitted with Wi-Fi, wired high-speed Internet access, safes, LCD TVs, plugs safe for American electronics and coffee makers.
Dining at this Ningbo hotel, guests can enjoy buffets with a variety of Western, Southeast Asian and Chinese cuisine at River Café, nosh on up-market Shanghai and Cantonese cuisine at Emerald Sea Chinese Restaurant . The hotel lounge offers a relaxing atmosphere for drinks.
Guests can also enjoy the first-rate amenities of this hotel—take a dip in the indoor pool, relax in the sauna, get fit in the fitness center or recharge at Quan Spa.